When the USA have just been emerging from a coronavirus pandemic, racial clashes erupted in the country because of the death of George Floyd. Therefore, what happened in Minneapolis?
Minneapolis Mayor Jacob Frey imposed an emergency regime amid protests caused by the death of African-American George Floyd, who died while being detained by four policemen on Monday May 25. All the United States at this time celebrated the holiday – Memorial Day of the Fallen in Wars. Thanks to social networks, the whole world saw the awful video and photos. That is: one of the law enforcement officers crushed the neck of a 46-year-old African American, holding him with his knee for six minutes.
George Floyd
Floyd, who had worked as a night bouncer, did not show any resistance to the police. Although he probably could with his impressive physique and muscles.
He only wheezes helplessly: "I cannot breathe!", "Let me get up!"
Witnesses called on the policeman to stop strangulation, indicating that the detainee was not moving.
Later, George Floyd remained motionless, after that paramedics put him on a stretcher and took him away in an ambulance. Therefore everyone found out that he had passed away. Minnesota police said the man had died as a result of a "medical accident" in "interacting with the police." Four policemen lost their job. Speaking to reporters, Minneapolis police chief Medaria Arradondo said that he surely would review police practice regarding "methods of restraint".
The FBI joined in the investigation of the incident, and placed under arrest officer Derek Chauvin.
This policeman strangled the victim with his knee
Derek Chauvin got accusation of manslaughter and third-degree homicide. If convicted, he can get a prison term of 25 years. As the Minneapolis police confirmed, his track record has 18 different complaints from citizens about past misconduct. The investigation is ongoing in relation to Chauvin and other officers who were with him .
Thank you for watching!
If you liked the video - share it with your friends:
George Floyd and Derek Chauvin
Curious information that needs further verification. Vice President of Minneapolis City Council Andrea Jenkins said that Floyd and Chauvin had known each other for many years. The victim and the cruel policeman had worked at the same El Nuevo Rodeo nightclub on Lake Street until their fateful meeting on Monday.
As it happened repeatedly in the past, the death of an African American caused unrest and riots. After a scandalous video that spread across all social networks and television channels, African-American youth took to the streets.
The local police station burned out, luckily all the law enforcement officers managed to escape the fire. People smashed and robbed local shops. Fires broke out, during one of which a six-story building under construction for 200 apartments burned down.
Now there is an emergency regimen. Minnesota Governor Tim Walls recruited the US National Guard. The governor, a member of the Democratic Party, called the unrest the reaction of "generations of pain and suffering". He said that "racism in the work of the police" caused this awful accident. The governor emphasized that no one heard voices of these generations, and now the whole world sees their pain.
Protests spread to other cities
After that protesters blocked traffic in central Denver, many Americans took to the streets in Los Angeles, Columbus, Phoenix, Memphis and other places. This happened including Louisville, where earlier this month police has killed Brionna Taylor, an African-American nurse.
Protests in Minneapolis
On the second day of the protests inMinneapolis, a pawnshop owner shot one man dead when protesters began to rob shops. Protesters set fire to a nearby auto parts store. Moreover a SUV went into a group of policemen in Minneapolis. On Friday morning, police detained this driver as well as CNN's live television crew. Police soon released the journalists. Besides, the state governor personally apologized for the actions of the police to the president of this television channel. Correspondent Omar Jimenez is back at work.
Meanwhile experts suppose thet the coronavirus pandemic caused the current riots overlap with the overall picture of social nervousness, the economic crisis, and unemployment soaring.
There is no direct connection. However earlier the whole world saw armed men in masks bursting into the Michigan State Congress building and demanding the cancellation of measures to combat the coronavirus. It was "white America" with weapon, which "Black America" constantly accuses of racism and violence.
There is a bright thought that the virus COVID-19 caused the economic and psychological turmoil. This fact in its turn exacerbated the current dangerous racial confrontation.
George Floyd as an honorable man
President Trump called the protesters "bandits"
He also suggested that the army could intervene in the situation. Trump warned on Twitter that if chaos continues, there may be additional violence. "When looting begins, shooting begins," the president wrote. Together with the adverb "again": "These bandits dishonor George Floyd's memory, and I will not allow this."
Meanwhile the people who knew George Floyd personally characterize him as athlete, a father, a "beautiful spirit" and "gentle giant". His friends say that he used to be a cheerful and kind person who harmed no one in his short life.
George Floyd Facts
George Floyd was born in 1973 in the city of Fayetteville, North Carolina, and grew up in the heart of the African American community of Houston. In his youth, he played basketball and football. Relatives called him "a good giant" because of his high growth and athletic physique.
From 1993 to 1995 he attended South Florida Community College. Then returned to Houston to continued his studies, but finally he did not do it. After that Floyd joined the hip hop band "Screwed Up Click", taking on the creative pseudonym Big Floyd. According to Iharare, he even starred in porn movie once. However, there is no exact evidence for this.
This man had been prosecuted at least five times. A series of arrests for theft and possession of drugs led to the charge of armed robbery in 2007, for which he got a sentence to five years in 2009. In 2014, he was released and moved to Minnesota to start a new life.
Since that time Floyd had lived in St. Louis Park, Minnesota, and worked as a security guard. In early 2020, the man lost his job due to the coronavirus pandemic.
At the time of his death, he was only 46 years old. Journalists managed to find out that Floyd had two daughters of six and 22 years old. As a matter of fact, shortly before his death, he had shot a video in which he had asked the younger generation to put an end to armed violence.
What happened to George Floyd on the day of death
Minneapolis police arrested George Floyd on May 25 after a grocery store employee called 911 accusing him of buying cigarettes with a fake $ 20 bill. According to the report, Floyd resisted, that is why police officer Derek Chauvin, who detained him, had to use force. However, a later video recording from a surveillance camera showed that Floyd did not resist.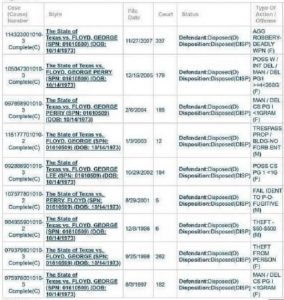 All the convictions of George Floyd
According to this data, Floyd got the latter conviction for armed robbery, when he put a handgun to the belly of a pregnant white woman. Floyd was detained for a crime and died of cardiac arrest. Meanwhile the expertise found traces of drugs in his blood. The time creates its own martyrs.